Oppo BDP 103D Darbee Edition review
This is a review of a new freshly minted Oppo BDP 103D unit, and I have no financial interest in it, nor do I work for Oppo or any related company.
For the review on the original Oppo BDP 103 please check it out here:
First the technical blurb off the official Oppo Website:

OPPO BDP-103D "It's like lifting a veil." Darbee's Visual Presence™ technology establishes a fundamental breakthrough for image realism. By embedding stereoscopic depth information generated from a patented human-vision-based model into 2D or 3D video, it provides greater clarity and increases the perception of depth resulting in a more dynamic, lifelike experience. The amount of processing is adjustable, allowing you to customise the visual enhancement to your particular taste. More information about Darbee's Visual Presence™ technology can be found here.



Enhanced Video Quality



4K Up-scaling - Enhance the home theatre experience with four times the resolution of Full HD 1080p by up-scaling all video sources to 4K (3840 x 2160) output resolution
DVD Up-Conversion - Per-pixel motion-adaptive de-interlacing and advanced scaling transform the standard definition image on DVDs to high definition output on your TV.
Full HD 1080p Output - The BDP-103D features user selectable video output resolutions, including 480i, 480p, 720p, 1080i, 1080p, and 4K.
True 24p™ Video - Many Blu-ray Discs are recorded at 24 frames per second, the same frame rate as the original movie's theatrical release. The BDP-103D can faithfully redeliver the original frames using 1080p 24Hz output (compatible display required) for smoother motion and a flicker-free, film-like home theater experience. It can also restore the original 24 frames per second progressive-scan video from well-authored DVDs and output 1080p 24Hz.
Source Direct Mode - For users who wish to use an external video processor, the BDP-103D offers a "Source Direct" mode. The original audio/video content on the discs is sent out with no additional processing or alteration.
Multiple Zoom Modes - The BDP-103D supports multiple levels of aspect ratio control and image zooming. Users can watch a movie in its original aspect ratio, fit to the full screen, or zoom in to remove the black bars on some titles.
Vertical Stretch Mode - For customers with a 2.35:1 CIH (Constant Image Height) display system, the player's zoom options include a vertical stretch mode to work nicely with an anamorphic lens. A unique subtitle shift feature allows the user to move the subtitle up and down, making it possible to see all subtitle text when using a 2.35:1 CIH display.
Advanced Picture Control - Users can have fine control of brightness, contrast, saturation, hue, sharpness, noise reduction, color and contrast enhancements. The player can remember and apply three custom picture control modes to suit a variety of viewing conditions and content types.
Dolby® TrueHD - Dolby TrueHD delivers lossless studio master quality audio designed specifically for high definition entertainment. The BDP-103D supports bit-stream output of Dolby TrueHD via its HDMI 1.4a output. It can also internally decode Dolby TrueHD into LPCM and output via HDMI or the 7.1ch analogue audio output terminals. Dolby Digital and Dolby Digital Plus audio formats are also supported
DTS-HD Master Audio™- DTS-HD Master Audio delivers an auditory experience that matches the lifelike images of high-definition video with up to 7.1 channels that are bit-for-bit identical to the studio master. The BDP-103D supports bit-stream output of DTS-HD Master Audio. It can also internally decode DTS-HD Master Audio and output via HDMI or the 7.1ch analog audio output terminals. (DTS-HD High Resolution Audio and DTS Digital Surround are also supported.)
7.1-Channel Analogue Output - Individual analog 7.1-channel surround outputs are ideal to connect to a 7.1-channel or 5.1-channel surround sound system. The BDP-103D delivers an incredible sound stage and an immersive surround experience. For users with stereo speakers, the 7.1-channel analogue output can be configured to a stereo down-mix mode.

Digital Optical and Coaxial Outputs- For simple and easy connection to more traditional A/V receivers, the BDP-103D features both optical and coaxial outputs for digital audio.

Rigid Chassis Construction - Built around a steel chassis, aluminium faceplate, and center-mounted disc loader, the BDP-103D is designed to impress as well as to provide a stable base for the highest quality reproduction of your favorite media.
This link will be useful if one is deciding between the plain 103 and this 103D version:
Is the BDP-103D Right for Me?

The main difference between the BDP-103 and BDP-103D is the BDP-103D's incorporation of the Darbee Visual Presence processor. The BDP-103 is a reference quality Blu-ray Disc player and has won numerous awards. The BDP-103D is based on the BDP-103 and shares most of the same features.
Basically, the Darbee processor is a video enhancer that provides greater clarity and increases the perception of depth by embedding stereoscopic depth cues within the video, resulting in a more dynamic, lifelike experience.
The Darbee's processing level is adjustable, which allows you to customize it to your particular taste. Unlike many other image enhancers or sharpeners, the Darbee processor does not alter the image in a global fashion, so it is able to reduce the amount of image artifacts that are created, and it does not adversely affect calibrated settings such as contrast, gamma, and color.
The original BDP-103 is known for its accuracy in reproducing video from all kinds of discs. The BDP-103D takes one step beyond reference quality accuracy. When the Darbee Visual Presence enhancement is turned off, it is a reference quality player just like the BDP-103. When the Darbee Visual Presence enhancement is turned on, the user has the option to fine tune the video to his/her own liking. In summary, if you are looking for a quality player that accurately reproduces video, the BDP-103 is the right choice; if you are looking for a more customized experience beyond standard picture adjustments, the BDP-103D provides additional possibilities to fine tune your viewing experience.
PS64D8000FM Samsung plasma TV
Denon AVR 4520 – XT 32, 11.2 capable with nine amps inbuilt, twin sub out
Front channels - Musical Fidelity A 5.5 stereo amp in HT bypass driving the 804D
Oppo BR player BDP 105 as CD and HT source for comparison.
B&W 804D, HTM4s centre, Radius 90HD for height and wide channels
Usher S 525 for rear back
Monitor Audio RXFX in dipole mode for surrounds
QED XT 300 for front and centre speakers
QED Micro speaker cable for the rest
HDMI cables : Audioquest Cinnamon, Forest; Aiborg flat HDMI cable, monoprice
Audioquest Snake subwoofer cables
Kimber KCAG interconnects
Assorted Xindak, PS Audio and other power cables
Auralex support under the centre speaker
Glass optical cables
Some basic info on the technology behind Darbee:

Home DarbeeVision

FAQ Darblet DVP 5000 DarbeeVision

Where should I place the Darblet in my setup?

The best place for the Darblet is right before your display. That way, if you have a switcher or Audio/Video receiver, whatever the switcher selects will go through the Darblet.




Some early reviews of their standalone models:

The DarbeeVision Darblet

What It Does

The Darblet will

"embed real depth cues in digital images, causing enhanced perception of object shape and ultra clarity."

That's a fancy way of saying that it adjusts the contrast, luminance and chrominance in a video signal to make the image appear sharper and more detailed.


Darbee Visual Presence - Darblet Model DVP 5000 - Review


"It's like lifting a veil."
Darbee's Visual Presence™ technology establishes a fundamental breakthrough for image realism. By embedding stereoscopic depth information generated from a patented human-vision-based model into 2D or 3D video, it provides greater clarity and increases the perception of depth resulting in a more dynamic, lifelike experience. The amount of processing is adjustable, allowing you to customize the visual enhancement to your particular taste. .
So the 103 and 105 have proven that Oppo still occupies the mid-range section, where audiophiles and videophiles demand good performance, but are still cost conscious. In particular the 105 has proven to be an excellent all round music for a good music and video balance, whereas the 103 has been excelling at being top dog in being a dedicated video playback machine.
On the other hand, Darbee has been busy showing off it's independent video processors. There have been generally positive comments, and some reviewers have been rather impressed with what a little box can do.
Now what would happen if you took the Darbee and implant that in one of the top video players around?
Thus the 103D was born, and instead of the
Qdeo processor, you the VRS Clear View chip, plus the Darbee magic.
You still get 4k,
courtesy of the upscaling done by the Silicon Image VRS Clear View chip, which is after the Darbee processor, so you still get to enjoy the benefits of Darbee even if you upscale to 4k.
The rest of the player is larger left alone, which is not a bad thing, when nothing really requiring fixing. So you get a Darbee 5000 implanted in the middle of the 103, and lose very little.
You get 4 modes, and adjustable levels for each, plus a brace of tricks called Split Screen and a moving mode where the difference between the pre-processing and post can be seen side by side. A cute party trick for comparisons and showing off to friends.
The Darbee button sits where the dimmer button is.
Here is a sample picture taken from the movie John Carter: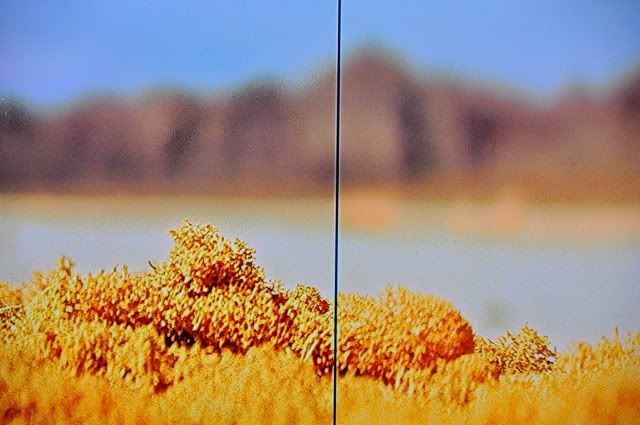 The original image is on the left side. I used the Hi Def mode at 50% on the right side.
Essentially there is an extra "snap" and "pop", which is what many other users have described.
There is a visible difference when you compare the images side by side, and whether you use the 105 or 103, you can see this. However the caveat is that you will enjoy it's effects more on a larger screen, and it works better for Blu Ray than DVDs, and for live action movies than animations.
The key question owners of older Oppo players will need to ask is:
Are the new features worth your time in upgrading, or is it just a LAGS – "latest and greatest syndrome" sort of thing?
If you already have a plain Oppo BDP 103, or even the 105, the difference for small screen users may not be worth the upgrade.
If you are considering the Oppo as a top grade transport and sending your video and audio signals to the AV amp, this should be a very good player to get. Especially if you have the budget and are moving up from a basic player, or even if this is your first player.
So size and source are the main concerns if you wish to consider this player.
These days there are scores of cheaper BR players around, some of which are less than a tenth the price of this baby. …
This player isn't for the budget home theatre aficionado; who wants the lowest cost player. He may be want a budget BR player that costs under USD 100, and mainly uses it for BR discs. His system will be less than $3000 for everything and may not upgrade.
Also, the main viewing screen could be a small 42-50" TV. As such, the budget choices will be better.
This is what I call a "more" player…
This is a player that does every format, and adds good video performance, plus the HDMI input capability, 4k upscaling, and the ability to play from your hard disk and it also makes a solid transport. So if you have a larger screen, and you want more in terms of video quality, and don't want to ponder if there is a significantly better player out there for similar or even thrice the money, this is it. A consummate video player, for the owner who has a large TV or better yet a projector system.
The larger the screen, the more you will get out of this player.
So this player will suit those who have an eye for detail, appreciate better quality, be it video, sound and wants the ability to upscale other components. This videophile will also have a projector or large flatscreen TV, and wants a much better player for his collection of BR discs, and may also have some legacy DVDs which he would like to upscale well.
For previous Oppo fans, the distance between this and the older 93 is less for small screens but you will want it if you have a large screen.
For new potential owners, they will be buying into a very well built player that does everything well and in particular has a solid video section.
Small money difference between this and the older 103 means that you can ignore the 103 if you are looking at USD 499 players.

If you don't overcook it, its quite enjoyable, especially on a large screen...
Small price for a instant video upgrade.
You get the same qualities Oppo is famous for, in such models as the 103 and 93.
Poor quality remote – rubber buttons remain the same.
If you have a recent Oppo, you won't get as much wow factor
Cheaper players for just BR player on a small screen so the cost conscious buyer may shun this player
An important footnote about Cinavia:
In essence, if you simply buy a disc, play it on the player through a HT system, you won't be affected at all. However if you make copies, rip discs, then you may have issues.