Denon AVR 4520 review - HT and audio performance
PS64D8000FM Samsung plasma TV
Denon AVR 4520 – XT 32, 11.2 capable with nine amps inbuilt, twin sub out
Front channels - Musical Fidelity A 5.5 stereo amp in HT bypass driving the 804D
Oppo BR player BDP 105 as CD and HT source
Apple TV (Gen 1) for music and photos
HTM4s centre, Radius 90HD for height and wide channels
Monitor Audio RXFX in dipole mode for side surrounds
JL Audio F113 for low bass
Hsu MBM for mid bass (tuned to 50-120 Hz) - sited behind my main seat
QED XT 300 for front and centre speakers
QED Micro speaker cable for the rest
Audioquest Cinnamon HDMI for Oppo to amp
Aiborg flat HDMI cable, LHS and AQ Forest HDMI cable - amp to TV and other sources
Audioquest Snake subwoofer cables
Wireworld Oasis 6 Interconnects
Assorted Xindak, PS Audio and other power cables
Rhodium Right Angle Plug adapters for USA power cables
I had just finished renovations and building my home theatre room around the same time last year, and was sitting pretty on my system, but then my itch came back and I recently went on an upgrading spree, swopping out the subwoofer, AV amp, front three speakers and Blu Ray player…
So after some wallet depleting action, I was able to sit down this year end and enjoy some home theatre.. sadly until my guests move out next year, I can't really have the home to myself to enjoy all the movies I have stored up…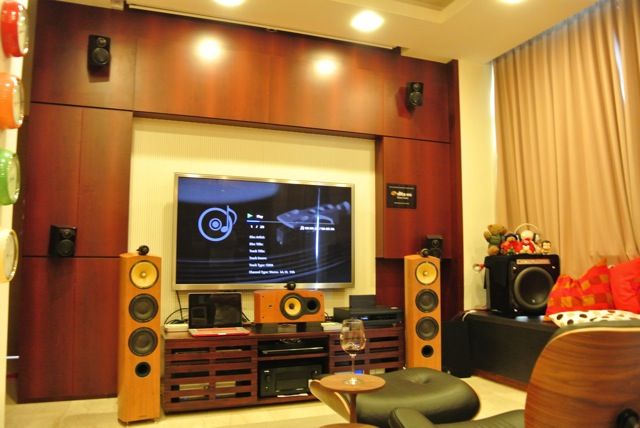 First, I will go through a summary run-through of my system.
I decided that I wanted the smartest 'brains' for my HT system, as movie dominate my time, and music was secondary, but when I listen to music, I still want a solid experience.
So I went with the people who have one of the most in depth experience in HT, and with their kind of volume of manufacturing, D & M were at the top of their game. I avoided the Onkyo sound and their heat issues seem to be pervasive still, after some many generations. I also avoided the smaller ID companies, since the bigger companies could make tried and tested products and can often remedy any issues that crop up promptly.
I did consider higher end processors too, such as Anthem, but the cost didn't seem worth it, and for the same money, I could get a Denon, Marantz, Yamaha, Onkyo or one of the big HT makers, and have enough money left over for some serious amps or even get a pre-power and have change for a year's worth of software.
I did start with lesser subs, but for music and HT plus good looks and build the JL Audio subs are at the top of their game.
Again, lots of info online already:
Having owned the AVR 2809 and 4311, I appreciate what Audyssey could provide, and I was looking forward to seeing what the new 4520 could offer.
·
3 pieces of 32 bit Sharc DSP processors which IMO did make a difference in HT and steering.
·
The 4 ohm capability. Even in full swing with all nine channels running, I never felt the amp needed more. Perhaps this was also because I had two subs to take care of the lower frequencies.
·
Audyssey XT 32 AND Sub EQ – some models did not have the latter, which is very useful if your room isn't ideal
·
Trouble free operation out of the box, no fuss, no updates needed
·
Ability to save configurations
·
Well built speaker posts
·
Loss of quick select buttons
·
Some selections are now buried in the setup
·
Only one set of speakers being used displayed – can only display input or output at one time
·
Lighter – did they go cheap on the transformer
·
Not enough HDMI inputs for a flagship unit
·
No more Hi Def blue light
·
No paper manual – just a tiny get started plus a CD (actually all I need is a big diagram of the rear panel for hookup purposes)
Anyway, so how does it all hang together?
As mentioned earlier, I use the Denon mainly in HT, so that's where I will be spending most time describing it.
This is one of the easiest to setup, from the way the GUI brings you through the various steps, to the use of the microphone for the calibration, and one can almost forgo the manual in setting up this machine.
The Audyssey calibration was also very fast, and IMO it was faster than even the AVR 4311.
In my setup, I use the Musical Fidelity A 5.5 stereo amplifier to power up my left and right channels. This amp has a HT bypass mode, which comes in handy.
Although Denon says the Audyssey is the same in this amp as their 4311, IMO the cinematic experience with the new 4520 is in a different league.
Do note that the quick select keys have disappeared from the remote, a real annoyance, and some adjustment keys including the direct access to the channel levels have also gone.
So after all the pre-amble, how does it sound?
Firing up all 11 channels with the help of my Musical Fidelity stereo amp in HT bypass was nice. I had already done this before with it's predecessor, the 4311, so the enveloping experience was a nice one, especially how it main the front soundscape into a nice wide and high seamless sonic picture.
But the steering has improved vastly IMO, over the older model, which was one of the first in the world with Audyssey XT 32. Even with 5.1 channel coded movies, there was a nice seamless ambience created, with the Denon having the ability to created a flight path for the bullets from rear to front, even with depth and height thrown in. Effects were distinct when they needed to be, and background when the sound engineer meant it that way.
When you partner it with a nice set of speakers, you can really retrieve details, and I was hearing things that I did not before. If you are a fan of the details, get something from Monitor Audio, B & W, or Thiel and throw it at this setup. I wound hasten to add that you will need better amps for the higher end speakers, which is one upgrade that will make your system sound better.
One nice feature is the Dialogue Enhancer, which is quite useful to help you follow the dialogue on the screen without having to turn up the volume to maddening levels.
Audyssey XT 32 and in particular the Sub HT EQ has done wonders for those who are not bass experts. I have a mid-bass unit from Hsu working to boost those chest thumping frequencies (50-120hz) and the JL Audio, which can go really deep and the Denon is able to unite them to give a wonderful bass response, which has slam, depth and is well integrated. In fact the two words which keep coming up are integration and seamless. And all this is done with great ease.
The key is that after Audyssey does it's job in calibration, you then tweak the individual channel levels, and the bass response of the individual speakers.

You will still need a SPL meter, but the Denon has made the previously daunting task of setting up a solid and seamless surround home theatre experience, very sweet indeed.
The amp section is fair and if you have a small HT space, and have subwoofers to take away the stress of driving the bass units, then the internal power section of this amp will be more than sufficient.
With the DSP modes like Audyssey and Prologic IIX engaged you get a decent surround experience, which makes for fun listening. I also gave the new DTS-Neo X surround a spin with the suitable coded Expendables II Blu Ray. This new surround modes to be front heavy, but Audyssey tends to have a more surrounding ambience. You should listen to both with your system to determine if it's what you want.
With a good movie in play, and the JL Audio F 113 partnering the Hsu MBM, there is enough bass energy to open my front door if it was not fastened down. Yet it's tight, with solid slam and pace. Effects race from front to back and across with ease and it makes the speakers disappear and soon you are just focused on the enveloping soundscape.
In stereo or Pure mode, there is a decent attempt at making good music. But the soundscape tends to be flat and two-dimensional.
It can drive my B& W HTM4s along with the other speakers to a decent clip, but when you switch to the stereo amp alone, the sonic deficiencies are more glaring.
The bass is stronger, and the soundscape becomes more 3D, with solid separation of the instruments and details.
The general sonic signature of this amp is highly dependent on the partnering equipment and speakers, but it tends towards the neutral to slightly bright, rather than the dull and fuzzy. If you have really bright speakers, it may not be for you, but it tends to be less bright than corresponding Pioneer or Onyko amps. Accurate may be a better term, but it is in between the Marantz amps and the above other two in the relative brightness scale.
Using the internal DACs was also not as good as the internal DACs of the Oppo, which are one of the best in the market.
The Denon functions best as a HT processor, and a surround processor for music. When pressed into stereo music duties, it's competent, but owners of such an amp may want to keep a separate system for music, or at least have a stereo amp with HT bypass in the system to give a stereo performance.
The more revealing your speakers the more glaring are the sonic deficiencies for music.
Now I am not saying it's any worse than the other AV amps of the same range, but the reality is that a similarly priced stereo amp will run circles around it.
I also made extensive use of the Airplay function, which I found to be very impressive. The sound quality from it was as good if not better than from a direct HDMI input from my Gen 1 Apple TV playing the same lossless songs. And the playback function is simple to use. Kudos to Denon and Apple for this. The user interface for this Denon has improved a lot, but if they could bring back some of those functions which they took out, that will be even better. Not having quick select and individual channel levels on the remote makes no sense.
Switching back to HT again, and trying out the video section, you will find a very competent video chip for upscaling and the colors are quite good. I still prefer to go direct from my Oppo BDP 105 to the TV, but the differences are slight, and there is the added advantage of on-screen volume and overlay.
You also get many other tricks like vertical stretch, upscaling over all inputs, which makes this a very flexible video processor.
With 7 HDMI inputs, one HDMI output, legacy inputs and even a phono input, you won't find this amp lacking in connectivity. The feature list is indeed very impressive. Build quality is decent, but it's not reference level build. The sheet metal is thin, but the amp is well put together.
It also has two 12v triggers, which come in very handy for any external amps, which you will need to have the full 11 channel surround experience.
So where does all this put the amp?
Well, if you have the older 4311, there is no need to lose too much sleep over this one. Most of the home theatre functions are carried over, and unless you definitely need the network router, or the new surround modes, the older 4311 is still a capable workhorse.
If you are in the market for a mid to high level receiver, or a processor on the cheap with free internal amps throw in, then this amp should be on your shortlist.
Competing brands like Onkyo, Pioneer and Yamaha each have their own house sound, and special features, but you can't go wrong with something which doesn't cost much more than the lower 3313 or other AV amps, but brings a considerable number of additional features. If you need the finer tweaking points and will also be spending on the speakers, subwoofers and want a solid performing HT processor / amp to go with these better speakers, then you can't go wrong with this amp.
I have no financial interest or other interests in any of the items / events I write about.