Adding Atmos / Auro speakers to an existing setup
When one adds speakers into an existing setup, there are a few considerations:
1) Space
Do you have space, and what kind of speakers can you add - floorstanders, space for stands and space in the ceiling for speakers is no different.
As it's an added on item you may already have stuff on the ceiling, such as fans, lights or even other speakers.. If they are too close together, the sound will be affected.
2) Mounting
Are the speakers mounted directly onto the concrete ceiling or will they go into a false ceiling? Cutting into concrete is no mean feat.. there's lots of dust, and you will need to cover up your stuff in the home if you want to avoid dust. Trust me, they will get into everything if you don't cover up..
If there are items where dust is a no no, move them..
As for false ceilings, will the ceiling take the weight? For small speakers like the Anthony Gallos, that's usually no issue, but if you are using regular bookshelf speakers, adding 4 or more of them to a structure which may only be supported by thin aluminum struts can be dangerous.
Also when one runs the cables in the false ceiling make sure they are secure. Otherwise your subwoofer will find these loose cables and send them rattling..
3) Cable runs
So how will these new cables run? Unless you are using wireless - which doesn't seem to work too well right now and you still need a power supply, so that still needs cables.
For my own place, I had space to hide the additional cables in my cove of the false ceiling, so I ran the trunking from the front to the right side, then skirted behind my bay window, then upwards behind the curtains, into the ceiling, where they punched through the original false ceiling and lay my cables..
4) Actual ceiling mounts
You can use OEM brackets or if the speakers you choose has specific brackets, then you can use them.
How will the cables emerge from the ceiling?
Are the mounts adjustable? Can you change their tilt?
They should be solid enough and the angle of tilt should not change with time or gravity.. saggy speakers are not nice ;)
5) WAF - aesthetics
Now this can the most tricky and expensive part...
You can drape the cables all over the floor or you keep it neat and tidy, run it into the ceiling and walls. The latter option involves a lot of cutting and hacking.. and cost.. so you will need to work it out with your spouse / partner on this. Keeping it neat buys you domestic bliss that can be priceless...
6) Angles
The Atmos and Auro website will give you links to the actual angles from the main listening position.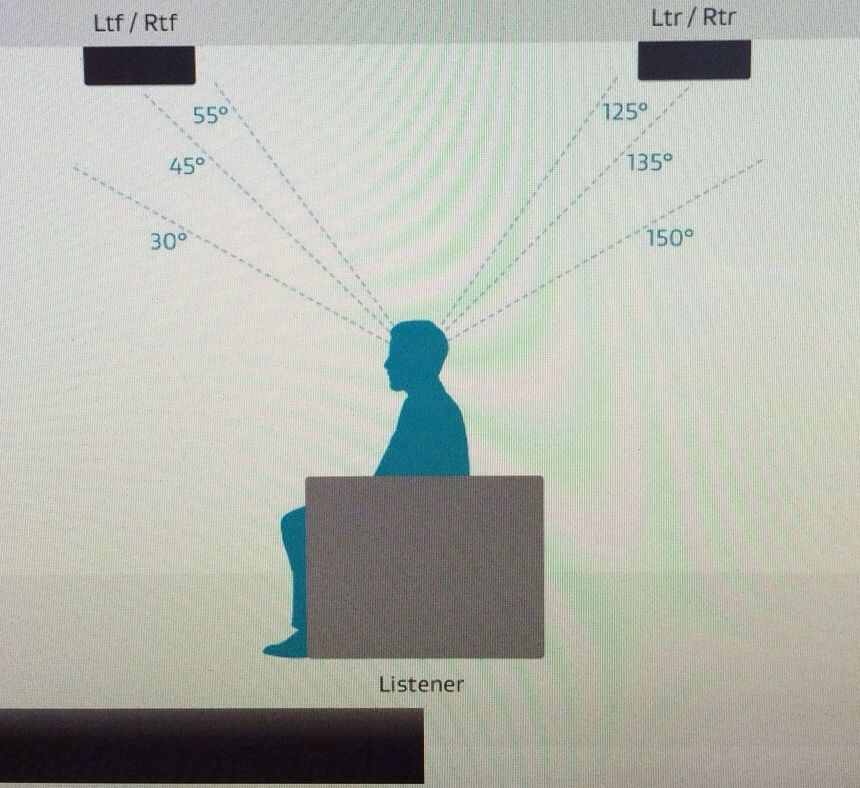 ______________________________________________________________
I have no financial interest or other interests in any of the items / events I write about.