Marantz NA 11 S1 review
Marantz has been the everyday man's route to accessible hifi at a decent price for a while. With their equipment, you pay more than what you would at Costco or Harvey Norman, but you are far short of the stratospheric money that you would have to fork out for more esoteric gear, and yet you get a big proportion of the sound quality.
A lot of this has to do with Mr Ken Ishiwata, the music genius who sprinkles his special magic on most of their range, and you get some rather fine equipment over the past 60 years.
Here in their 60th Year, the Reference "11" series has a new member in the form of the Audiophile Network player / DAC – NA 11 S1. That's a mouthful but your jaw will remain open when you sit down to listen to what this baby can do.
Some links to the technical blurb:
And some tips from Marantz about using digital music and their USB port:
PREMIUM Network Audio Player
This latest rebirth of the Premium 11 Series not only sees the total reinvigoration of both player and amplifier but also the creation of an entirely new S11 separate – the NA-11S1 Network Audio Player.

The NA-11S1 Premium Network Audio player is arguably the most advanced, next-generation player there has ever been. Its introduction to this year's Premium collection is a true milestone in the Marantz history and is a momentous occasion for every audiophile. Why? Because finally, it is now possible to enjoy new media on the highest of levels, by utilizing the increasingly available high resolution downloads it creates 'studio master' quality right in your own living room. It produces such breath-taking audio quality because inside it includes the High Current Audiophile D/A converter DSD1792 as well as a Marantz original DSP and Digital Filter PEC777- a high-end algorithm previously used only in professional recording studios - we call it Marantz Musical Mastering. This type of filtering retains greater detail for an even wider sound stage and a perfect balance. Its analogue audio circuits feature Marantz HDAM®-SA2 and HDAM®, and the Toroidal transformer ensures that there's always power in store the instant it's needed, while the rigid copper-plated chassis with 5mm thick aluminum top cover minimize vibration and interference. Importantly, selectable digital filters allow you to tune the sound as you prefer. The USB-B port works in asynchronous mode and supports not only 192kHz / 24bits but also the DSD 2.8MHz and 5.6MHz for maximized versatility. You can play FLAC HD 192/24 files, WAV 192/24 files, Internet Radio and Streaming Services support via Ethernet, and AirPlay Music Streaming from iTunes or iDevices – as well as many other file types. It is also DLNA 1.5 certified, so Android integration is easy, and the USB-A port on the front panel also makes playback from an iPod/iPhone/iPad or USB devices just as simple. This player has the lot. What more could you dream of?

The network hub
The NA-11S1 gives you access to an unlimited number of music sources. You can play music from your own collections stored on PC / NAS or enjoy the world of internet radio. With AirPlay you can stream from your iTunes library or any iDevice such as an iPad, iPhone or iPod touch. All contents will be processed by Marantz Musical Mastering and carefully forwarded by the high-quality output stage.

Marantz Musical Mastering
The Marantz digital filtering with Noise Shaper and Dithering gives you two filter characteristics for CD and any other digital input. This filtering effectively eliminates digitalization errors, to ensure wide sound stage, perfect balance, pin-pint detail, and rich harmonics.

Superior D/A converter
The unit's high-current audiophile DAC runs on 384kHz / 24 bit for the purest possible conversion of the digital signal processed by the Marantz DSP PEC777f3.

Oversized Toroidal transformer
The oversized transformer guarantees a high energy reserve to supply every power demand with ease and speed. The result is every detail and every nuance is faithfully and accurately reproduced.

Superior Line Out terminals
Constructed from highly pure copper and plated with gold, the NA-11S1's line output terminals ensure long-term, highly reliable contact to transport the sensitive audio signal to the next stage of amplification.



USB-A input (front)
The front USB port gives you easy access to your music stored on portable devices and makes use of the NA-11S1's high quality audio stage. And when you play a device it also recharges.

Low-noise LCD
Thanks to the high-contrast LCD playlists and other information is easy to read even from a distance, while the low-noise aspect ensures that the LCD never influences the sensitive audio signal.

Solid metal chassis
The 5mm aluminium top-cover and copper-plated chassis, reduces vibration to an absolute minimum. Also, this solid chassis provides a low ground potential for every point of the player.

System control terminal
System Terminal to connect the SA-11S3 and PM-11S3 so you can control the set-up with the Marantz remote App.

Remote controller
Easy operation of any function including the volume of the Marantz amplifier.
- Premium-quality audio player for any digital media
- Internet Radio and Streaming Service support (Spotify & last.fm) via Ethernet
- AirPlay Music Streaming for easy playback of the entire music library from iDevices or iTunes
- DAC Mode with three digital Inputs (USB-B, Coaxial, Optical) for standard resolution and high-definition audio streaming
- USB-B Asynchronous Mode for minimized jitter and unadulterated audio streaming
- Marantz Musical Mastering and high-quality DAC to reproduce music details naturally
- DSD2.8 MHz file native playback via USB-B for SACD audio quality
- ALAC (Apple Lossless), FLAC 192/24, WAV 192/24 files playback
Some important technical info:
High-current DSD1792 DAC chip

Marantz Musical Mastering technology, which is currently used by professional recording studios, to deliver greater detail and more-balanced sound.

A toroidal transformer supplies cleaner power to the onboard electronic circuits

An armored 5mm-thick, copper-plated chassis to block and minimize external interferences

XLR-type balanced audio output typically used by high-end hi-fi systems.
Other key specifications:
Coaxial and optical digital audio output

RCA and XLR analog audio output

Comes in black and gold

440 x 127 x 417mm (W x H x D)

14.6kg
You can get this in black (North American Market) or Gold aka Champagne (Asia Pac) or if you indent one, a 220v black version and all of them are made in Japan.
Does the country of origin matter? Well when you lay your eyes and hands on the set, and caress the model, you will agree that it is really well made. At 14.6kg, it's about as heavy as many mid-range AV amplifiers, and has a bigger toroidal transformer than most such amplifiers.
The 5mm thick metalwork helps account for the weight, and there are many audiophile parts inside and you can refer to their website to rattle off and impress your friends with the long list of fancy parts. The remote reminds me of the that came with my Pioneer Kuro TV and my Toshiba HD DVD player. The same hewn from a single piece of metal solid feel that assure you that the money was well spent on the player.
·
The Ishiwata tweaked USB port, into a Marantz DAC with supports 24/192 in asynchronous mode
·
Toroidal tranformer for audiophile cred
·
Airplay and compatibility with most known formats on the market, and DSD via the USB port
·
Internet radio and music server streaming if you use the Ethernet port
·
HDAM 2 modules to give you more of that sweet Marantz sound
·
Filters to tweak the sound to your liking
So after the long litany of cool parts, a fabulous finish and more, how does it sound?
It's only the initial stages, but one word – Musical. This much maligned and oft-repeated word is truly apt here.
It simply makes all your CDs, digital music and even internet sources sound good. There is a smooth yet neutral presentation, that invites you to keep throwing all kinds of music at it, and use up all the ports and with each source, it just sound great.
There is detail, and yet, it doesn't not go overboard and you can even make a mp3 recording sound good. No kidding, it's just that listenable.
There is no emphasis of a particular spectrum, but a solid bass and even treble make it easy to blend into any system. There is a solid soundstage, with good separation of the instruments, and details you pick up that were either muffled or absent with other DACs.
As for setup, it couldn't have been easier, and the NA 11 found my itunes wireless setup easily, and played each of my sources with no fuss or drama. It's quite simple to use, yet I would have preferred an option to hook up to an external display, as the display screen is hardly visible if you sit more than 3m away. The initial setup page asks you a few simple questions, and within minutes, you are good to go. The speed in which you lock onto radio signals will be largely dependant on your internet speed.
Using the Airplay function was both easy, and also very solid sounding. There wasn't a lot to choose between the various input options, but some critical listening may reveal more difference. Right now, my impression is that all the various modes sound wonderful.
Filters are a personal thing, and whether you want a more direct sound via Filter 1 or something a tad smoother with Filter 2 will be up to the listener.
The only thing negative so far has been the sound from the internet radio, which maybe an issue with the quality of the source and the signal strength than the Marantz itself.
Comparing it to the Oppo 105 (unmodified) I had on hand, the Sabre DAC equipped Oppo isn't bad at all, and will work well in a HT system whose owner has a slant towards music. But if you want to eke out more from it, add the NA 11 S1 and you are in a totally different class. There is more detail, but in a very musical way that makes the sound from the Oppo sound more flat and clinical. The soundstage is wider, deeper and mellow, gaining details, and more bass, whilst sounding less edgy.
I have now acquired the partnering Marantz PM 11 S3 and the two are a match made in heaven. The NA 11 s1 is neutral to warm, and matches the power and revealing PM 11 S3. You also get network control of the amp via the NA11S1, and you can now use the Marantz app for the DAC and amp. This pair had no issues driving my B&W 804D and it also took the slightly bright treble edge off the speaker, making it a fine combination to listen for hours.

I have also successfully used the rear USB with my Macbook, and it now works with iTunes after I installed Jriver to try out the DSD tracks.

Strange as it may sound, I no longer have trouble with the rear USB and iTunes, which I had earlier.

I can't really find a big difference between the ethernet port and the USB, and most of the DSD tracks aren't really my mainstream stuff, so it's hard to comment on it.

After about 4 months I finally had a chance to try out the headphone amp built into the NA11s1, and it's very good.
Neutral in nature and powers even difficult to drive cans well, you usually won't need to turn it up beyond 11 o'clock unless deafness is desired.
It begs you to use good cans with it, and will not be out of place with a nice set like the Senn HD 650 or even the 800.
All in all, the NA 11S1 is a fine buy and worth the money for it.
My partnering equipment are in my setup page.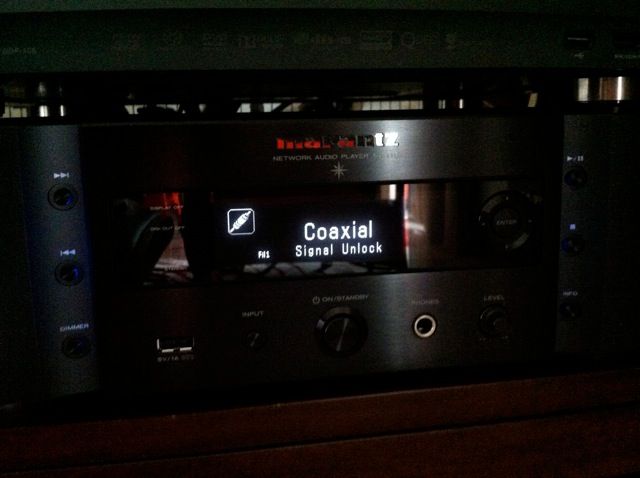 I have no financial interest or other interests in any of the items / events I write about.